THE DECLARATION OF INDEPENDENCE, THOMAS JEFFERSON, AND FILIPPO MAZZEI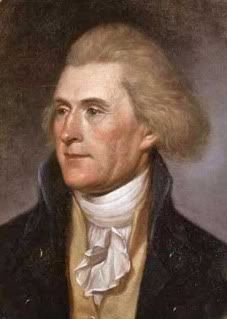 On
June 12, 1776
, the Virginia convention adopted the Virginia Declaration of Rights, written by the patriot George Mason. In part, the Declaration said: "That all Men are created equally free and independent, and have certain inherent natural Rights, of which they cannot, by any compact, deprive or divest their Posterity…"

On
July 4, 1776
, at the meeting in Philadelphia, the Representatives of the United States of America adopted a Declaration drafted by Thomas Jefferson. In part the Declaration stated "We hold these Truths to be self evident. That ALL MEN ARE CREATED EQUAL, that they are endowed by their Creator with certain unalienable Rights…"

Between 1774 and 1776
Filippo Mazzei, wrote (under the pseudonym "Furioso") many articles against British rule. The articles were first written in Italian then they were translated into English by his friend Thomas Jefferson, and published in the 'Virginia Gazette'. One article read in part:
"Tutti gli uomini sono per natura egualmente liberi e indipendenti. Quest' eguaglianza e' necessaria per costituire un governo libero. Bisogna che ognuno sia uguale all'oltro nel diritto naturale."… etc
The following is a translation of Mazzei's words:
"All men are by nature equally free and independent.
This equality is necessary in order to create a free government. All men must be equal to each other in natural rights"
The thoughts of an Italian immigrant became embodied in the founding document of the United States of America, the Declaration of Independence!

Who was Filippo Mazzei?
Filippo Mazzei was born December 25, 1730 in Poggio-a-Caiano, Tuscany, Italy. He studied medicine in Florence and practiced medicine in Pisa and Livorno (Italy), Smyrna and Constantinople (Turkey). In 1756 he went to London where he organized the firm of Martini and Co., which imported cheese, wine and olive oil into England. While in England the Grand Duke of Tuscany asked Mazzei to purchase two franklin stoves giving Mazzei the opportunity to meet Benjamin Franklin, Thomas Adams, and other Americans.
Mazzei's American friends persuaded him to form a company in Virginia to promote the culture of silkworms, olives, grapes, and the production of wine. He arrived at Jamestown, Virginia in November of 1773. He brought with him a group of Italians who were to introduce in Virginia the cultivation of vineyards, olives, and other Mediterranean fruits. He also brought a tailor, the widow Maria Martin whom he married in 1774, her daughter, and Carlo Bellini. At Jefferson's recommendation Bellini became a professor of modern languages at the College of William and Mary.
While Thomas Adams was giving Mazzei a tour of Virginia they stopped at the estate of Thomas Jefferson. Jefferson immediately started a friendship with Mazzei and convinced Mazzei to buy land adjacent to Monticello, about four miles from Charlottesville. Mazzei called his estate Colle (Hill). The friendship with Jefferson lasted over 40 years.
Mazzei became involved with Virginia's political activities, became a naturalized citizen of Virginia, and established his reputation as a patriot by joining the revolutionary war effort. Mazzei and Jefferson worked together composing article about freedom and equalities. One of those articles was the source for Jefferson's famous statement in the Declaration of Independence
"ALL MEN ALL MEN ARE CREATED EQUAL".
Jefferson gave Mazzei a copy of the "Rough Draught" of the Declaration of Independence, while an excerpt of Mazzei's "Instructions of the Freeholders of Albemarle County to their Delegates in Convention" was used by Jefferson in his attempt to institute a new state constitution. Mazzei became a private in the "Independent Company" of Albemarle and participated in a march toward the Atlantic coast in an effort to thwart the British when they first landed troops at Hampton.
By 1778 it was decided by Jefferson, Patrick Henry, George Mason and others that Mazzei could be useful abroad to obtain a loan for the State of Virginia. But before Mazzei could accomplish his mission he and his family were captured by the British and held prisoners. While at sea Mazzei put his instructions and commission in a weighted sack and threw them overboard. The British sent him and his family to Ireland from where they escaped to France. Once he arrived in Tuscany he was able to borrow money from the Grand Duke of Tuscany for Virginia and to buy goods in Italy for the use of state troops. He gathered political and military information for Governor Jefferson.
Mazzei returned to Virginia in 1783 and left again for Europe in 1785 never to return to his adopted country. His wife stayed at the Colle until she died in 1788, she is buried in the family graveyard at Monticello.
Mazzei maintained a close relationship with his former compatriots including Jefferson, Madison, and Monroe. Mazzei helped Jefferson obtain portraits of Vespucci, Columbus, Magellan, and Cortez from the grand duke of Florence. As a last gesture of friendship to the USA, in 1802 at the age of 75 he traveled to Rome to hire two sculptors to work in the National Capital, Washington, D.C. They were Giovanni Andrei and Giuseppe Franzoni. Perhaps one of Mazzei's most important contributions to the American cause was the writing and publishing in 1788 his four volume history of the colonies. "Recherches historique et politiques sur les Etats Unis de Amerique septentrionale" described the founding of each of the 13 colonies, the cause of the Revolution, and the development of the government of the United States.
Mazzei was involved with French affairs during the French Revolution and later was involved with Polish affairs working with King Stanislaus. Mazzei succeeded in reestablishing diplomatic relations between France and Poland. After reading Mazzei's "Recherches", King Stanislaus invited him to Warsaw to be a friend and advisor.
In 1792 Mazzei returned to Pisa, married Antonina Tonini in 1796, had a daughter Elizabetta in 1798. In Pisa he started to cultivate his garden and was known as Pippo l'ortolano. 'Phil the gardener' died in Pisa on March 19, 1816, three years after completing his memoirs. After his death the remainder of his family returned to the USA at the urging of Thomas Jefferson. They settled in Massachusetts and Virginia. Mazzei's daughter married the nephew of John Adams.
Mazzei's contributions to the cause of the American Revolution have been acknowledged by John F. Kennedy in his book "A Nation of Immigrants".
Before Kennedy, President Franklin D. Roosevelt reminded Americans of Mazzei's contribution to Jefferson's draft of the Declaration of Independence.
Hon. Mario Biaggi of New York, had inserted in the Congressional Record of September 12, 1984 an essay about Filippo Mazzei written by Sister Margherita Marchione, a professor at Farleigh Dickinson University in New Jersey.
The Joint Resolution 175 of the 103rd Congress notes that Jefferson borrowed the expression from an Italian friend and neighbor – Philip Mazzei.
In 1980 the U.S. Postal Service issued a 40-cent stamp commemorating the 250th anniversary of Mazzei's birth.
Thomas Jefferson on Philip Mazzei - (The Jefferson Encyclopedia)

1778 October 19
. (Jefferson to John Hancock) "Philip Mazzei possesses first rate ability...He has been a zealous whig from the beginning and I think may be relied on perfectly in point of integrity. He is very sanguine in his expectations of the services he could render us on this occasion and would undertake it on a very moderate appointment..."
1784 March 16
. (Jefferson to James Madison, Annapolis) "An alarming paragraph in your letter says Mazzei is coming to Annapolis. I tremble at the idea. I know he will be worse to me than a return of my double quotidian headache."
1816 July 18
. (Jefferson to Giovanni Carmignani) "An intimacy of 40 years had proved to me his great worth; and a friendship, which had begun in personal acquaintance, was maintained after separation, without abatement by a constant interchange of letters. His esteem too in this country was very general; his early and zealous cooperation in the establishment of our independence having acquired for him here a great degree of favor."

1816 July 18
. (Jefferson to Thomas Appleton) "Your letter brought me the first information of the death of my ancient friend Mazzei, which I learn with sincere regret. He had some peculiarities (and who of us has not?), but he was of solid worth; honest, able, zealous in sound principles, moral and political, constant in friendship, and punctual in all his undertakings. He was greatly esteemed in this country..."