I have already talked about The Trotula, now it is time to feature another Medieval woman of note the legendary contessa of Sicily and regina of Jerusalem,
Adelasia (or Adelaide) del Vasto.
Adelasia was not only a historical figure of Sicily but she actually was part of the history of Patti and the nearby town of Librizzi.
Adelasia was the third wife of the Norman Ruggero I d'Altavilla, Great Count of Sicily and Calabria, the founder of the Norman dynasty in Sicily. They were the parents of King Ruggero II, the first king of Sicily and great grandparents of
Federico II, the Stupor Mundi.
Adelasia of Montferrat or Adelasia del Vasto was born in Piemonte in 1074, her father was the Marchese Manfred del Vasto, a descendant of the Aleramo who in 967 had been granted the territory of Montferrat by Emperor Otto I. Montferrat was situated south-east of Turin. When Manfred died his unscrupulous brother Bonifazio usurped power from the legitimate heirs of Manfred. Defrauded, the legitimate heirs who were minors and defenseless, decided to leave the Lombard region of Northern Italy and settle in the more hospitable and prosperous island of Sicily. In fact during the 11th century there was a large migration of Lombards to Sicily where they founded towns such as Novara, San Fratello, and today's Piazza Armerina!
The fifteen year old Adelasia was asked by the recently widowed
Gran Conte Ruggero
to become his third wife. They were married in Mileto, Calabria, in 1089. Ruggero was 60 years old and the father of 10 children, three of whom were males and thus the future heirs. The Gran Conte and Adelasia had two sons, Simone who was born in 1092 and died in 1105,
and Ruggero II (born in Mileto on December 22, 1095) who became the first King of Sicily.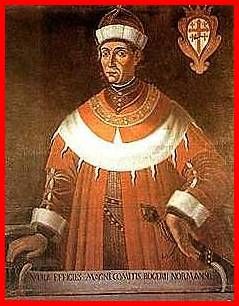 Ruggero, il Gran Conte di Calabria e Sicilia
Adelasia a capable and ambitious woman was very lucky in fulfilling her aspirations. Her husband's male children from the previous marriages died leaving Simone and Ruggero II heirs of Sicily and Calabria. When the Gran Conte died in 1101 first Simone and then Ruggero became the rulers with Adelasia as their regent. In fact she ruled for ten years until Ruggero was considered an adult at the age of 17. Adelasia was a successful regent since she had learned from her husband how to govern, the art of diplomacy and mediation. In addition she surrounded herself with extremely capable advisors of all ethnic groups including the admiral Cristodulo who was reputed to be of Greek or Arab ancestry. In fact she wisely refused to discriminate against Sicilians of any ancestral origins. She followed her husband's policy that Latins, Greeks, Arabs, Normans, and other ethnic groups, were to be respected as were their customs and culture.
Adelasia courageously defended her children's throne, quelled many revolts (including one in Focero' in the area of Librizzi and Sant'Angelo di Brolo). She was just and intervened with authority to put an end to the various controversies that arose between the abbots of different Bishoprics. Even though she was a Roman Catholic, Adelasia protected the Greek Orthodox Church which for centuries had been the major Christian religion of Sicily, in fact she freely made donations of vast tracts of land to the Greek Church. Adelasia moved the Royal Court from Calabria to Messina, the base from where the Normans had extended their dominion of Sicily, and then to the flourishing city of Palermo.
When her son Ruggero II took over his hereditary responsibilities, Adelasia's work was done, but her character was not one to sit back and retire to a private life. She did not want to interfere with her son's politics and rulings, so she looked elsewhere for opportunities that would give her power and to help her son become king. Luck once again favored Adelasia. In 1112
Baldovino I of Fiandra (Flanders) King of Jerusalem,
sent an ambassador to Messina to ask Adelasia's hand in marriage. It was a calculated political move by Baldovino in order to forge an alliance with the Normans and to get his hands on Adelasia's vast riches. The already married Baldovino repudiated his first wife who had not given him any children, ensconced her in a convent with the false accusation of immorality, and obtained an annulment. Unaware of Baldovino's duplicitous plans Adelasia accepted the proposal but she made sure that
the matrimonial contract included a clause
that stipulated that upon Baldovino's death, if they did not have any children to succeed him, the Kingdom of Jerusalem would be given to her son Ruggero II. (Adelasia was ahead of her times, this matrimonial contract sounds like a modern prenup to me!)
The contract was signed and
in 1113 Adelasia left Palermo for Jerusalem.
The ship on which Adelasia traveled was decorated with a masthead gilded with pure gold, the stern and bow were also gilded with gold and decorated by very talented artisans. She was accompanied by 11 naval ships full of soldiers, among whom were 500 Sicilian Saracen archers who were renown throughout the West for their valor; military arms; merchandise and provisions; … All the ships and all that they carried including the archers and soldiers were wedding gifts for the King of Jerusalem. The ships also carried the personal treasures of the countess which included jewels, gold, precious stones, silver, fabrics, and expensive textiles. When Adelasia arrived in the new kingdom, she was received with all of the honors due her, and the wedding was celebrated in a lavish ceremony.
Having resolved his economic and military problems through the matrimony with Adelasia, and having squandered her extensive dowry, on the 25th of April of 1117 Baldovino had his marriage annulled! Adelasia's luck ran out! The deeply grieved and humiliated Adelasia returned to Palermo. Her son Ruggero was furious and devastated for the horrible treatment of his mother but for political reasons was unable to vindicate his mother. However years later he refused to support the Second Crusade to Jerusalem, perhaps it was a delayed act of revenge. In an attempt to alleviate his mother's sorrow, Ruggero organized great festivities to celebrate her return but the proud and sensitive Adelasia decided not to remain at the Royal Court and
went to live at the Convent of San Bartolomeo in Palermo and then she decided to get far away from Palermo and went to live in the monastery of Patti. Adelasia died in Patti on April 16, 1118.
She did not witness her dream come to fruition,
her son Ruggero II became first King of Sicily in the year 1130.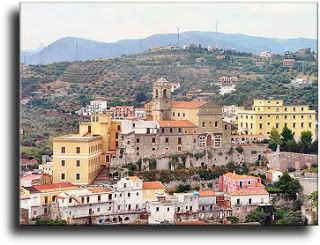 La Cattedrale di Patti
Rigina Adelasia, as the Pattesi call her, is buried in the Cathedral of San Bartolomeo in Patti.
Adelasia and her husband in 1094 had founded on the hill a Benedictine convent and abbey. Later Ruggero II built at the highest point of Patti a church to house the mortal remains of his mother. In 1693 the original church was restored and rebuilt in the shape of a Latin Cross. At the transept there are two lateral chapels, one dedicated to the SS Sacramento and the other to Santa Febronia, patron Saint of Patti.
Inside the chapel of Santa Febronia is found the marble sarcophagus containing the remains of Adelasia.
The Sarcophagus of Adelasia del Vasto
The Cathedral of San Bartolomeo is also the church that housed for a few days the body of
Federico II, il Stupor Mundi.
When Federico II died his body was brought to Patti, the location of his great grandmother's tomb. After a few days of mourning his body was transferred to Palermo where he is buried in the Cathedral of Palermo.
La Cattedrale di Patti
In 2008 Patti honored Adelasia with a historical exhibit about their beloved and legendary Rigina. Among other things, the exhibit contained the Ruggero official Bull (Seal) and Adelasia's decrees written on parchment.
The State Archives of Palermo is the repository of the oldest extant document in Europe written on paper, dated 1109.
It comes from the chancellery of the Norman kings who had occupied Sicily. It is a bilingual order written in Arabic and Greek, and it concerns a salt mine near Castro Giovanni.
The author of the order is Adelasia, Countess of Calabria and Sicily, third wife of Ruggero I Count of Sicily and Calabria, founder of the Norman dynasty!
Adelasia wrote the order on paper rather than parchment because it was not an official document, official documents were written only on parchment. The Adelasia document which has been restored by the latest technologies has revealed that it is paper of Arabic origin.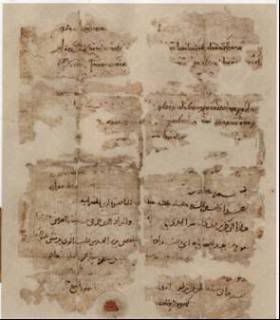 The oldest extant document in Europe written on paper, a letter by Adelasia del Vasto.
ADELASIA DEL VASTO, a notable medieval woman from the end of the 11th century and the beginning of the 12th, is still a woman of interest in the 21st century!

Just a personal note: I lived in Patti for a year while attending the first year of the Ginnasio. For the second year of the Ginnasio I commuted by bus from Librizzi to Patti, a trip of only 15 minutes. I have fond memories of the time spent in Patti.